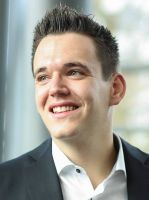 M.Sc. Frank Bieder
Karlsruher Institut für Technologie
Institut für Mess- und Regelungstechnik
Engler-Bunte-Ring 21
Gebäude 40.32
D-76131 Karlsruhe
Forschung
Lehre
Übungsleiter der Vorlesung Messtechnik II (SS20, WS20/21)
Aufgabensteller Grundlagen der Mess- und Regelungstechnik (SS19, WS19/20, SS20)
Mechatronik-Praktikum (WS19/20)
Rechnergestützte Verfahren in der Mess- und Regelungstechnik (WS19/20, WS20/21)
Akademische Dienste
Reviewer for

IEEE ITS Intelligent Vehicles Symposium (IV)
IEEE RAS International Conference for Robotics and Automatisation (ICRA)
IEEE RSJ International Conference on Intelligent Robots and Systems (IROS)
IEEE RAS Robotics and Automation Letters (RA-L)
De Gruyter TM-Technisches Messen (TM)

Chair of special session on Real-time critical perception tasks in the context of automated driving at the FUSION 2021
Zu vergebende Bachelor-, Diplom-, Master- und Studienarbeiten
Abgeschlossene Bachelor-, Diplom-, Master- und Studienarbeiten
Occlusion Handling for Automatic Data Generation using HD Maps and a highly accurate SLAM, master thesis, November 2020
Fusion of Simultaneously Learned Semantic Information from Different Representations, master thesis, November 2020
A Comparison of Different Approachesto Solve the SLAM Problem on a Formula Student Driverless Race Car, master thesis, November 2020
Combining Sequential LiDAR Measurements For Semantic Segmentation of Multi-Layer Grid Maps, master thesis, November 2020
Panoptic Segmentation of Urban Scenarios, master thesis, September 2020
Veröffentlichungen
Nick Le Large, Frank Bieder, Martin Lauer. Comparison of Different SLAM Approaches for a Driverless Race Car / Ein Vergleich von unterschiedlichen Ansätzen zur simultanen Lokalisierung und Kartierung unter Verwendung eines fahrerlosen Rennfahrzeuges. tm - Technisches Messen, De Gruyter, 88, April 2021.
Frank Bieder, Sascha Wirges, Johannes Janosovits, Sven Richter, Zheyuan Wang, Christoph Stiller. Exploiting Multi-Layer Grid Maps for Surround-View Semantic Segmentation of Sparse LiDAR Data. In Proc. IEEE Int. Conf. Intelligent Vehicles, Las Vegas, USA, June 2020.
Frank Bieder, Muti Ur Rehman, Christoph Stiller. Fusion of Sequential Information for Semantic Grid Map Estimation. In Forum Bildverarbeitung, Karlsruhe, Germany, Nov 2020.