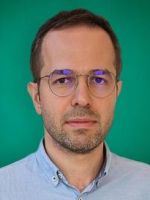 M.Sc. Ömer Sahin Tas
FZI Forschungszentrum Informatik
Haid-und-Neu-Str. 10–14
76131 Karlsruhe, Germany
Veröffentlichungen
Johannes Fischer, Ömer Sahin Tas. Information Particle Filter Tree: An Online Algorithm for POMDPs with Belief-Based Rewards on Continuous Domains. In Proceedings of the 37th International Conference on Machine Learning (ICML), Vienna, Austria, July 2020.
Ömer Sahin Tas, Felix Hauser, Christoph Stiller. Decision-Time Postponing Motion Planning for Combinatorial Uncertain Maneuvering. In Proc. IEEE Intell. Trans. Syst. Conf., Hawaii, USA, November 2018.
Ömer Sahin Tas, Christoph Stiller. Limited Visibility and Uncertainty Aware Motion Planning for Automated Driving. In Proc. IEEE Intell. Veh. Symp., Changshu, China, June 2018.
Ö. S. Tas, N. O. Salscheider, F. Poggenhans, S. Wirges, C. Bandera, M. R. Zofka, T. Strauss, J. M. Zöllner, C. Stiller. Making Bertha Cooperate -Team AnnieWAY's Entry to the 2016 Grand Cooperative Driving Challenge. IEEE Transactions on Intelligent Transportation Systems, 19(4):1262--1276, April 2018. [ DOI | http ]
Ömer Sahin Tas, Niels Ole Salscheider, Fabian Poggenhans, Sascha Wirges, Claudio Bandera, Marc René Zofka, Tobias Strauss, J. Marius Zöllner, Christoph Stiller. Making Bertha Cooperate - Team AnnieWAY's Entry to the 2016 Grand Cooperative Driving Challenge. IEEE Trans. Intell. Transp. Syst., November 2017. [ http ]
Jannik Quehl, Haohao Hu, Ömer Sahin Tas, Eike Rehder, Martin Lauer. How Good is My Prediction? Finding a Similarity Measure for Trajectory Prediction Evaluation. In Proc. IEEE Intell. Trans. Syst. Conf., Yokohama, Japan, October 2017. [ http ]
Ömer Sahin Tas, Stefan Hörmann, Bernd Schäufele, Florian Kuhnt. Automated Vehicle System Architecture with Performance Assessment. In Proc. IEEE Intell. Trans. Syst. Conf., Yokohama, Japan, October 2017. [ .pdf ]
Maximilian Naumann, Piotr Orzechowski, Christoph Burger, Ömer Sahin Tas, Christoph Stiller. Herausforderungen für die Verhaltensplanung kooperativer automatischer Fahrzeuge. In AAET Automatisiertes und vernetztes Fahren, Beiträge zum gleichnamigen 18. Braunschweiger Symposium vom 8. und 9. Februar 2017, Seiten 287--307, Braunschweig, Germany, Feb 2017. ITS automotive nord e.V. ISBN: 978-3-937655-41-3. [ .pdf ]
André-Marcel Hellmund, Sascha Wirges, Ömer Sahin Tas, Claudio Bandera, Niels Ole Salscheider. Robot Operating System: A Modular Software Framework for Automated Driving. In Proceedings of the IEEE Intelligent Transportation Systems Conference (ITSC), Rio de Janeiro, Brazil, November 2016. [ .pdf ]
Ömer Sahin Tas, Florian Kuhnt, Marius Zöllner, Christoph Stiller. Functional System Architectures towards Fully Automated Driving. In Proceedings of the IEEE Intelligent Vehicles Symposium (IV), Gothenburg, Sweden, June 2016. [ .pdf ]
Philipp Bender, Ömer Sahin Tas, Julius Ziegler, Christoph Stiller. The combinatorial aspect of motion planning: Maneuver variants in structured environments. In IEEE Intelligent Vehicles Symposium (IV), Seiten 1386--1392. IEEE, June 2015. [ http ]