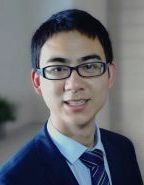 M.Sc. Lingguang Wang
Karlsruhe Institute of Technology (KIT)
Institute of Measurement and Control Systems
Engler-Bunte-Ring 21
Building 40.32
76131 Karlsruhe, Germany
Research
Publications
Lingguang Wang, Carlos Fernandez, Christoph Stiller. High-Level Decision Making for Automated Highway Driving via Behavior Cloning. IEEE Transactions on Intelligent Vehicles, 2022. accepted.
Lingguang Wang, Christoph Burger, Christoph Stiller. Reasoning about Potential Hidden Traffic Participants by Tracking Occluded Areas. In IEEE International Intelligent Transportation Systems Conference (ITSC), Indianapolis, IN, United States, September 2021. [ DOI ]
Lingguang Wang, Carlos Fernandez, Christoph Stiller. Realistic Single-Shot and Long-Term Collision Risk for a Human-Style Safer Driving. In 2020 IEEE Intelligent Vehicles Symposium (IV), Seiten 2073--2080, Las Vegas, USA, June 2020. [ DOI ]
Michael Buchholz, Fabian Gies, Andreas Danzer, Matti Henning, Charlotte Hermann, Manuel Herzog, Markus Horn, Markus Schön, Nils Rexin, Klaus Dietmayer, Carlos Fernandez, Johannes Janosovits, Danial Kamran, Christian Kinzig, Martin Lauer, Eduardo Molinos, Christoph Stiller, Lingguang Wang, Stefan Ackermann, Tobias Homolla, Hermann Winner, Grischa Gottschalg, Stefan Leinen, Matthias Becker, Johannes Feiler, Simon Hoffmann, Frank Diermeyer, Bastian Lampe, Till Beemelmanns, Raphael van Kempen, Timo Woopen, Lutz Eckstein, Nicolai Voget, Dieter Moormann, Inga Jatzkowski, Torben Stolte, Markus Maurer, Jürgen Graf, Edgar von Hinüber, Norbert Siepenkötter. Automation of the UNICARagil vehicles. In 29th Aachen Colloquium Sustainable Mobility, Band 2, Seiten 1531--1560, 2020.
Lingguang Wang, Carlos Fernandez, Christoph Stiller. Generating Efficient Behavior with Predictive Visibility Risk for Scenarios with Occlusions. In Proc. IEEE Intl. Conf. Intelligent Transportation Systems, Seiten 1--7, Rhodes, Greece, Sep 2020. [ DOI ]
Lingguang Wang, Zhenkang Wu, Jiakang Li, Christoph Stiller. Real-Time Safe Stop Trajectory Planning via Multidimensional Hybrid A*-Algorithm. In Proc. IEEE Intl. Conf. Intelligent Transportation Systems, Seiten 1--7, Rhodes, Greece, Sep 2020. [ DOI ]