The KITTI Vision Benchmark Suite

This dataset takes advantage of our autonomous driving platform Annieway. We present challenging real-world benchmarks for evaluating tasks such as stereo, optical flow, visual odometry, 3D object detection and 3D tracking. For this purpose, we equipped a standard station wagon with two high-resolution color and grayscale video cameras, using a baseline of roughly 54 centimeters. Accurate ground truth information is provided by a Velodyne laser scanner and a GPS localization system with integrated inertial measurement unit and RTK corrections. All sensors have been calibrated and synchronized. Our datsets are captured by driving around in a mid-size city, rural areas and on highways. Up to 15 cars and 30 pedestrians are visible per image. Besides providing all data in raw format, we extract benchmarks for each task. For each of our benchmarks, we also provide an evaluation metric and an online evaluation website.
Karlsruhe Object Dataset 2011: Cars and Pedestrians

This dataset contains contains roughly 1000 images each and object bounding boxes for cars or pedestrians (~10000 bounding boxes in total). Furthermore, it contains the orientation of each object, discretized into 8 classes for cars and 4 classes for pedestrians. The .zip files provided below come with a MATLAB-based label viewer. Labels are saved as MATLAB matrices (.mat files), where each row is an object in the image and the columns correspond to position, size, class and orientation of the object. You can use this dataset to train your preferred objected detector. We had very good experiences with the cascaded part-based L-SVM from Ross Girshick and Pedro Felzenszwalb, which we modifed to fix the latent orientations to the ones given by the labels. We have been able to detect very small objects by upsampling the original images up to a factor of three. You can download the datasets here.

Karlsruhe Stereo Video Sequences

This dataset contains a couple of high-quality stereo sequences recorded from a moving vehicle driving through the city of Karlsruhe. The sequences are saved as rectified images in *.png format. Calibration parameters of the camera and ground truth odometry from an OXTS RT 3000 GPS/IMU system is provided in a separate text file. You can download the datasets here.
Karlsruhe Velodyne SLAM Dataset (incl Stereo Video)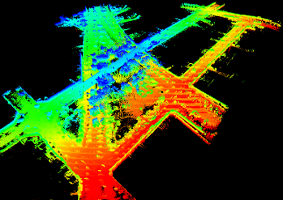 This dataset contains sensor recordings from our vehicle AnnieWAY at a bridge in the city of Karlsruhe. Driving a loop that passes both below and over the bridge makes it a very special scenario specifially suited for 3D SLAM applications. The used sensors are:
3D Lidar Scanner: Velodyne HDL64E-S2
Stereo Camera, calibrated
GPS/IMU data: OXTS RT 3000
You can download the datasets
here